What are the variables determining whether or not a popular musician's star explodes in spectacular fashion or dies before it's even been glimpsed? If it came down simply to talent, charisma and drive, then Dos Floris, the London-born, Italy-based multimedia recording artist, would have it all sewn up. And even if we added to the list the more superficial attributes like looks and the ability to wear clothes well, she'd be on top. But there are, at a conservative estimate, about 1001 more factors at play, many of them far beyond the reach of human influence.
In a fickle and capricious world where chance occurs in fitful bursts, the life of an artist is not easy. And in every era of popular music, big talents have been overlooked so that trifling ones might enjoy the limelight. In the 1970s, while first-rate singer/songwriters like Lesley Duncan, John Howard, Essra Mohawk and Elliott Murphy toiled in relative obscurity, winking sexpots like Baccara were on television almost every week, singing meringue-like, empty-calorie songs about being stood up at the provincial disco. Nothing wrong with that, of course, and just because someone appreciates Leonard Cohen doesn't mean that he or she can't also be thrilled to the point of incontinence by the Steps reunion. Still, it can be galling to watch mediocrity and guile triumph over substance and beauty.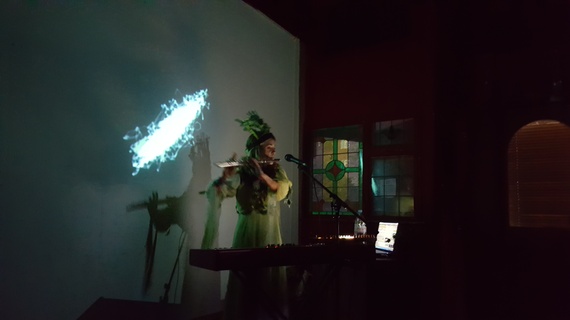 Dos Floris, London, 2017
Photograph: Emma Esdaile
Dos Floris's debut album, The Widowed Earth, is part Gaia-theory love-letter-to-earth and part journey through personal demons. It comes wrapped in gorgeous, folk-electronica clothing and has been steadily accruing admirers over the last twelve months. The artist, keen to ride the wave of public appreciation, has been flying in from Bologna and playing a handful of UK dates, with one more to follow at Carnglaze Caverns in Liskeard, Cornwall on June 3rd. Currently unshackling herself from dubious promoters and associates who've done little except attempt to part her from money, she's been burned but by no means defeated. The industry, she says, is a sea teeming with a lot of incompetent fish, not to mention cold-eyed sharks. She's managed to avoid falling into the 'pay to play' trap that leaves up-and-comers constantly in the red, but sometimes it's been close.
Those of us who were present at either of her two sold-out shows last month in London, were witness to the extraordinary; there is always something magical about watching someone excel themselves. In this instance, it was a woman we already knew to be remarkable, pushing beyond the confines of her considerable abilities and into the transcendent. The venue, with its musty, knockabout charm, was perfect for a performer who knows how to connect to an audience without falling back on showbiz or schmaltz. Armed with keyboards, a flute, a looping pedal and her trusty MacBook, Dos Floris took us through her album and a sprinkling of newer, non-album tracks. The first few songs were performed as an uninterrupted suite with an impact not unlike that of Kate Bush's The Ninth Wave.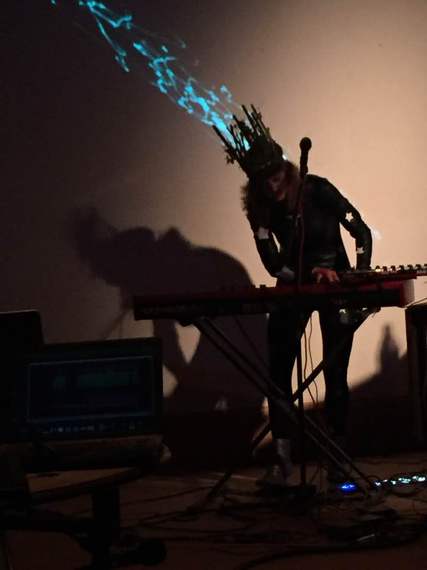 Dos Floris, London, 2017
Photograph: Alex Spencer Churchill
For any artist working in the field of electronica, the acid test is whether or not they can cut it live. In Dos Floris's case, the answer is a resounding and jubilant 'Yes!' with a sturdy capital 'Y'. From the rousing call to action of 'Rivers' to the nocturnal, luscious 'Starlight', Dos Floris didn't put a foot wrong or flub so much as one note. A costume change from a regal, feathered outfit to a lithe, sensuous, star-spangled jumpsuit helped to emphasise the distinction between set 1 and set 2 of the show. Chatting amiably to the audience throughout and involving them in on-the-spot alterations to the setlist, the musician repeatedly demonstrated why she's been a name to watch for the last few years and will continue to be so. Rarely has electronic music sounded so warm, so real and so analogue. The closest she came to the conventional singer/songwriter sphere was with the non-album track 'Human Relations' – one of the most moving points in the evening. The song's searing poetry and its avoidance of cliched, Diane-Warren-style chord progressions reminded me of some of the more intelligent artists of the 1970s, in particular Wendy Waldman.
It would be an oversight not to mention Dos Floris's splendid vocal performances – she's a restlessly adventurous singer, emitting everything from anguished cries to plaintive ululations. We live in a world where talent and recognition are not often commensurate, but if anyone has masses of the former and deserves heaps of the latter, it's Dos Floris.
Dos Floris performs at Carnglaze Caverns, St Neot, Liskeard, Cornwall on June 3rd – find out more here. Find out more about Dos Floris here.